You are here
Press releases and newsletter
AFP's online interactive agenda goes live
AFP is launching an online agenda. On a single platform, AFP Agenda lists news events from around the world and informs clients how AFP journalists plan to cover them. Designed for mobile and desktop access, AFP Agenda is easy to use, rich in content and interactive. It is also a gateway to AFP production.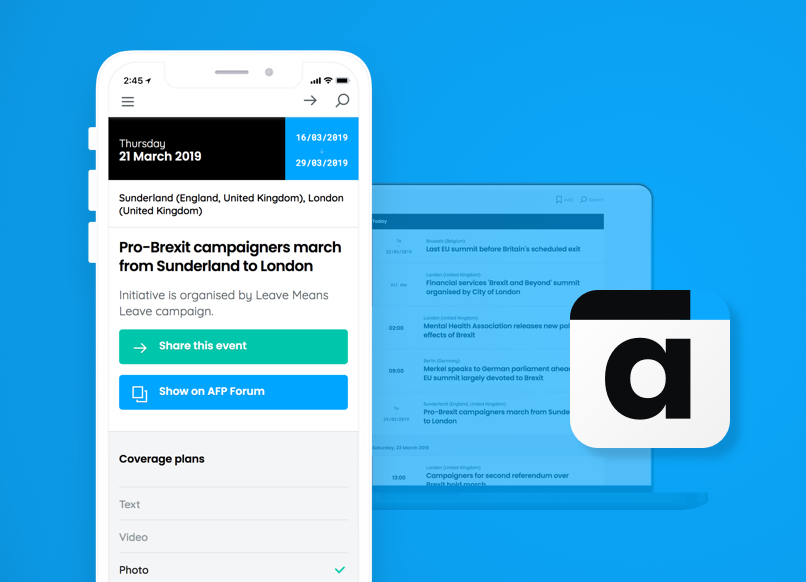 AFP Agenda displays events selected by journalists across our global network. It contains practical information about listed events: dates, times, address and contact information, as well as context and background. Users can share event information by email and add events to their calendars.
AFP Agenda users can customise the agenda to their needs, searching the platform by keyword, location, news category or plans for coverage and saving a tailor-made version of the agenda that will be updated in real time. Users can create as many customised agendas as they wish.
AFP Agenda provides a direct gateway to all AFP text, photo, video and graphic production available on AFP Forum, the Agency's multimedia download platform.
"AFP Agenda is the fruit of numerous exchanges with our clients. It was developed in response to requests for mobile access to our agendas, and to enable clients to create their own agendas," AFP global news director Phil Chetwynd said. "Managed by AFP journalists for our clients, this new tool meets the same editorial standards as all other AFP products."
AFP Agenda is currently available in English and French in beta, with access open to all media clients. Spanish and German versions will become available in the coming months.
Visit AFP Agenda on https://agenda.afp.com
About AFP:
AFP is a global news agency delivering fast, accurate, in-depth coverage of the events shaping our world. With 2,400 staff spread across almost every country, AFP covers the world 24 hours a day in six languages. AFP delivers the news in video, text, photos, multimedia and graphics to a wide range of customers including newspapers and magazines, radio and TV channels, web sites and portals, mobile operators, corporate clients as well as public institutions. Checking the facts is at the heart of AFP's historic mission and its expertise in this area benefits its clients on a daily basis.
Download PDF version