You are here
Themed internet-ready sections, comprehensive and illustrated articles (photos, videos and graphics).
AFP delivers turnkey editorial content for all digital platforms: websites, mobile sites and applications, tablets, public screens and connected TV.
120+
categories
Over 120 categories provide rich, detailed and in-depth coverage of world news.
1.250+
illustrated articles / day
Over 1.250 complete articles are published daily, from live news coverage to sports results feeds and election results.
8
languages
Available in French, English,
German, Spanish,
Portuguese, Arabic,
Traditional and Simplified Chinese.
A wide range of themes and integration to suit your needs.
Receive articles in real time and by chronological order for simple and comprehensive integration of international news.
A choice of editorial formats
AFP offers different headline lengths to suit your needs: SMS, scrolling ticker, public display screens, etc.
| Short headline for mobile | Standard headline |
| --- | --- |
| Rare language under threat in Oman | Rare language also under threat in Straits of Hormuz |
| – 35 characters | – 51 car. |
| Long Headline | Catchline |
| Kumzar village in Oman has a thousand year-old language of its own that no one else on earth understands | Home to 4,000 people and overlooking the strategic Straits of Hormuz that Iran has threatened to close, Kumzar village has a thousand year-old language of its own that no one else on earth understands. |
| – 104 car. | – 201 car. |
The best of AFP photo content optimised for all of your platforms.
Video galleries optimised for mobile, featuring the best of AFP content.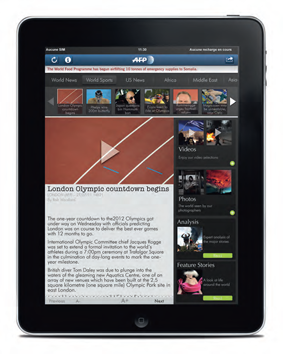 The Video Graphics gallery explains, pinpoints and illustrates complex news stories, compatible with all formats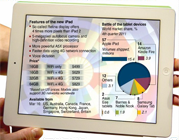 A choice of delivery formats
Receive content in XML, HTML, TXT, NewsML or WML (wap) format
Customisation
NewsML format enables you to select standard integration for all elements or customise your content integration.