You are here
News in the digital age
Iris is the new production and distribution system from AFP. Iris aims to assist our clients in facing the challenges of the digital age.
Multimedia content and enriched newstories
Format optimized for integration and adaptation on different platforms
Unique access to content and new tools
Launched in fall 2008, Iris aims to assist our clients in facing the challenges of the digital age. Based on a large prospective study "News in the digital age" conducted by AFP on more than 200 clients worldwide, Iris is the answer to changes in the use of information and technology.
Iris will enable clients to:
link news to the source: produce news stories, photos, videos, graphics and videographics from one multimedia editorial system,
develop the technological value associated with delivered content: ease multimedia integration and adaptation, search engine optimization, multimedia consultation for journalists and Internet users,
offer new services, more flexible and modular.
The editorial system: linking information from the source and enriching it with metadata
First of all, Iris is a unique, multimedia production tool for all 1.500 journalists of the Agency, aimed towards:
increased editorial coordination and responsiveness
links between information:

between breaking news, analyses and archives
from the story to the photo, video, graphic for both hot news and features
between the 6 production languages of the Agency

powerful and common metadata enrichment to all produced content (location-based, named entities…)
The distribution system: optimizing integration and content consultation for your teams and your audience
Iris is also a distribution system that will enable our clients to benefit from a native multimedia production by adopting the flexible, progressive and convergent NewsML G2 format:
For your editorial teams: a faster and more efficient navigation through the news.
For your technical teams:

optimized content integration in your editorial system
greater autonomy for creation of more vertical and multimedia sections on your digital devices
greater search engine optimization
possibility of establishing links to databases or third-party providers.

For your audience: better accessibility and more interactive and multimedia experience.
AFP Forum: access and download all AFP content from one platform designed for professionals
AFP Forum, web platform for downloading content – stories, photos, videos, graphics, videographics – from AFP and its 40 partners, will provide users:
a single point of access to content:

simplified access: one platform, one login and one password
enhanced intuitiveness: an interface designed for mono-media and multimedia users,facets – filters, recommendation engine

new writing tools:

Exalead© search and recommendation tool to navigate among millions of documents available
new customizable tools for comparison and real-time notifications, etc.

The editorial animation of the website will be conducted by a team of journalists dedicated 24/7 to highlight hot news and archive documents.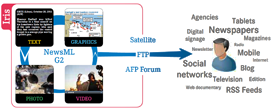 About NewsML G2
The NewsML G2 format is NewsML G2 the new universal protocol for transmission of information defined by the major news agencies and their clients as part of the IPTC.
NewsML G2 enables transmission of rich content via satellite, FTP and Internet thanks to:
new metadata: named entities (people names, places, organizations), location-based, links to reference documents by AFP or other recognized sources
unique event number: links between content (text, photo, video, graphics) dealing with the same event
new taxonomies IPTC: 5 levels for a high indexation degree (i.e.: Accidents and disasters > disasters > natural disasters > meteorological disasters > storm)
common and harmonized keywords between text, photo, video, graphics departments and between languages
News ML G2 detailed support documents:

https://www.afp.com/communication/iris/Guide_to_AFP_NewsML-G2.html