Inside AFP
Discover AFP's special multimedia project, "The Fulani"
An ambitious feat of on-the-ground reporting and editing, this new multi-media project demonstrates once again the strength of the AFP network and the high quality of its journalism.
For several months in 2019, AFP's multi-disciplinary team (text, photo, video and data graphics) set out to meet one of the world's last great nomadic peoples, in Nigeria, Mali and Niger.
They aimed to tell the story of these freedom-loving men and women as they face some of the 21st century's direst challenges.
The Fulani are at the heart of most major news stories in the Sahel region of Africa: population explosion, urbanization, global warming and radicalization.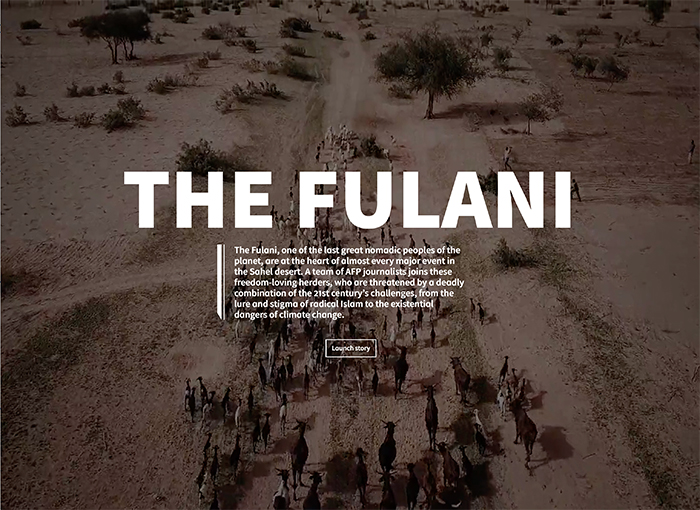 Our large format story "The Fulani" is the result of the joint work of four photo, video and text reporters in the field:
texts : Célia Lebur, now a journalist in the general news service, Paris
photos : Marco Longari, deputy editor-in-chief for photo, Johannesburg; Luis Tato, , photojournalist, Nairobi
videos : Florian Plaucheur, video journalist, now in Rio de Janeiro
It also features invaluable work by the AFP interactive unit and the graphics and innovation department.:
Christine Huang
Clara Morineau
Through original projects like this, AFP collectively produces high-quality journalism and shows the world as it is.