You are here
Inside AFP
Behind the AFP photo of a swimmer's rescue: a robot, a photographer and a lot of emotion
Oli Scarff's photos of US artistic swimmer Anita Alvarez losing consciousness and sinking during the World Swimming Championships in Budapest, before being rescued by her coach, have been seen around the world since the dramatic incident happened last Wednesday. Here is the story of how these images were taken.
Oli had just finished photographing Anita Alvarez's programme and was about to select his photos for transmission when he saw the swimmer's coach, Andrea Fuentes, dive into the pool.
"I first saw the coach diving into the pool and it surprised me. I then looked at the control screen on my remote control box at the bottom of the pool to see what was happening underwater. And that's when I realised that Anita Alvarez was sinking. The next few seconds were really upsetting because I didn't know what state she was in".
Fuentes said she had been scared initially because she could see Alvarez was not breathing, but that she had recovered after the rescue.
Oli Scarff is one of four photographers AFP has assigned to cover the World Swimming Championships in Budapest.
For many years, AFP photographers have set up remote-controlled cameras at the bottom of pools to get angles that would otherwise be inaccessible. These cameras are placed in waterproof housings and are remotely controlled by the photographer, who sits in the gallery with a remote control – like a joystick for video gaming - and a control screen that allows him or her to point the camera in any direction, frame the shot and then shoot..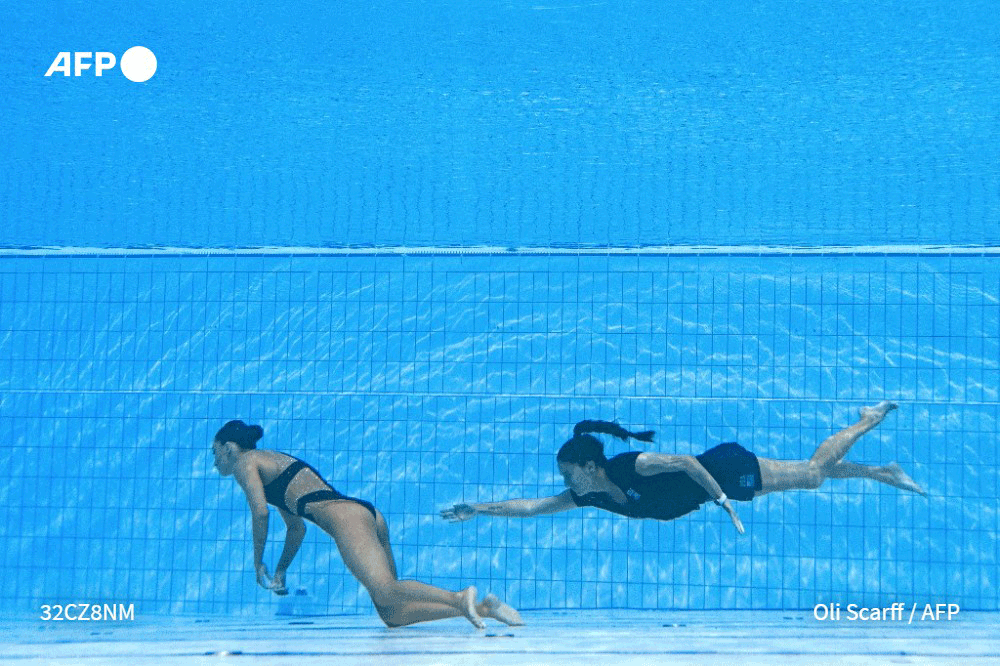 USA's coach Andrea Fuentes (R) swims to recover USA's Anita Alvarez (L), from the bottom of the pool during an incident in the women's solo free artistic swimming finals, during the Budapest 2022 World Aquatics Championships at the Alfred Hajos Swimming Complex in Budapest on June 22, 2022. (Photo by Oli SCARFF / AFP)