Press releases and newsletter
AFP spotlights its high-tech Olympic coverage at international Sportfolio photo festival
AFP's cutting edge photo coverage of the London Olympics is the focus of its exhibition at the Sportfolio Festival in the French Mediterranean city of Narbonne which runs from June 1 to 18.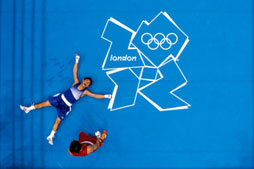 The international festival brings together the best of sports photo coverage past and present and is held at seven venues around the southern city.
AFP is hosting an exhibition which shows how the agency used innovative technology to capture the action at the London Games.
AFP used the most advanced techniques to give a unique insight into the events, including robotic underwater and overhead cameras.
AFP's photo team used remote -controlled cameras to capture images of boxing matches from above, Michael Phelps' quest for greatness from below in the Olympic pool, and to follow Usain Bolt as he electrified the Olympic stadium – and the world – with his win in the 100 metres final.
AFP deployed 45 photographers as part of a 150-strong team at the Games, and the agency transmitted some 72,000 images during the historic two-week event.
AFP's international photo service provides around the clock coverage of world events through its network of 500 photographers, with more than 3,000 images a day being transmitted to clients.
About AFP
AFP is a global news agency delivering fast, accurate, in-depth coverage of the events shaping our world from conflicts to politics, sports, entertainment and the latest breakthroughs in health, science and technology. With 2,260 journalists spread across almost every country, AFP covers the world 24 hours a day in six languages. AFP delivers the news in video, text, photos, multimedia and graphics to a wide range of customers including newspapers and magazines, radio and TV channels, web sites and portals, mobile operators, corporate clients as well as public institutions.

Download PDF version