Press releases and newsletter
AFP partners the Brazil Women's Forum
AFP is participating in the international Women's Forum held for the first time in Brazil. The event will bring together business women and opinion leaders to discuss women's contribution to the country's development.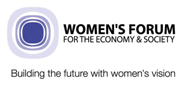 Maria das Graças Foster, the president of Petrobras, a major Brazilian oil company, and Marina Silva, former environment minister and senator, will be attending the opening of the leading international forum for women. The Brazil Women's Forum, a regional version of the Women's Forum for the Economy & Society, will bring together 400 participants on 4-5 June in São Paulo, including business men and women, entrepreneurs and opinion leaders who will be sharing their view of the country's future.
AFP will be represented by the editorial director and correspondent for Brazil, Laura Bonilla, who will be moderating the debate entitled "How to make education more highly valued in Brazilian society?" Yvonne Bezerra de Mello, founder of the Uerê project, Beatriz Cardoso, president of the CEDAC education community and Samara Werner, founder of NAVE and the Tamboro Educacional, will all be participating in the debate.
For more information about the Women's Forum: www.womens-forum.com/
Download PDF version