You are here
Height prizes won by AFP photographers at the POYi Awards
Massoud Hossaini, Louisa Gouliamaki, Pedro Pardo, Angelos Tzortzinis ...
Massoud Hossaini
1st Place, Spot News category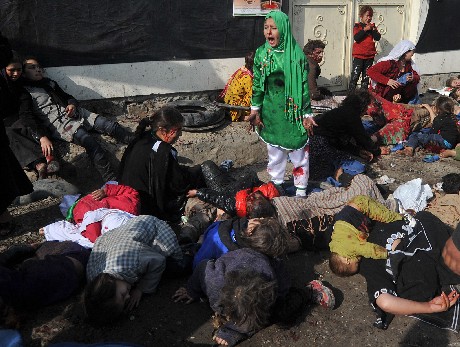 AFGHANISTAN, Kabul : GRAPHIC CONTENT
Afghan Shia Muslim 12-year-old Tarana Akbari (C) cries near dead and injured after explosions during a religious ceremony in the centre of Kabul on December 6, 2011. At least 30 people were killed in an explosion at a Kabul shrine where Shia Muslims were marking the Day of Ashura Tuesday, an AFP photographer saw. The blast came in the city centre where Shias had gathered to carry out religious rituals to mark the day, a public holiday in Afghanistan. AFP PHOTO/ Massoud HOSSAINI

Louisa Gouliamaki
2nd Place, General News category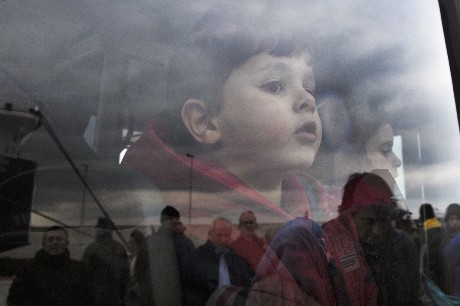 GREECE, Piraeus : Children evacuated from the Libyan port of Benghazi on the Nisos Rodos ferry peer out from a bus at the Greek port of Piraeus near Athens on February 27, 2011. The Nisos Rodos was chartered by Brazilian authorities, disembarked 390 passengers of around 16 nationalities, including women and children. Officials from various embassies and consulates were there to welcome the passengers, who numbered 148 Brazilians and 144 Filipinos as well as Portuguese, British, Irish, Dutch, Bosnian and Tunisian nationals.AFP PHOTO / LOUISA GOULIAMAKI
Award Of Excellence, Issue Reporting picture

GREECE, Athens : Protestors fight with riot police during massive clashes at the central Athens Syntagma square on June 15, 2011. Thousands of protesters ringed the Greek parliament building on Wednesday as the government tried to push through its emergency package inside and a general strike paralysed the country.AFP PHOTO / LOUISA GOULIAMAKI
Angelos Tzortzinis
Third place, Spot News category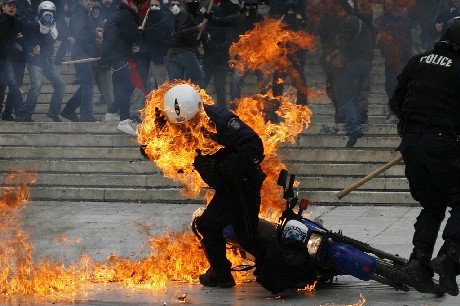 GREECE, Athens : A policeman is seen in flames as he tries to escape after a petrol bomb was thrown at him during riots in front of the parliament in Athens on February 23, 2011. Greece is hit with another general strike against austerity as Prime Minister George Papandreou seeks to convince the cash-strapped country's eurozone partners to extend the repayment of a massive rescue loan. AFP PHOTO/ Angelos Tzortzinis
Ernesto Benavides
Second place, News Picture Story category

PERU, Cajamarca : Policemen stand nearby a protest of Andean people against plans for a huge open-cast goldmine on November 24, 2011 in Cajamarca, in the high Andes of Peru. Protesters climbed to four high mountain lakes whose waters would be moved to make way for the gold mine. The US-based mining company Newmont has promised modern reservoirs to replace threatened mountain lakes but there are also fears that pollution from the mine could affect agriculture and livestock. AFP PHOTO/ERNESTO BENAVIDES.
Claudio Santana
Award Of Excellence, Sciences / Natural category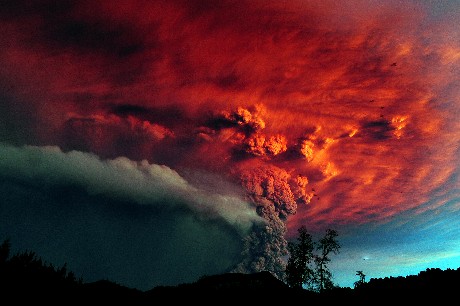 CHILE, Osorno : A cloud of ash billowing from Puyehue volcano near Osorno in southern Chile, 870 km south of Santiago, on June 5, 2011. Puyehue volcano erupted for the first time in half a century on June 4, 2011, prompting evacuations for 3,500 people as it sent a cloud of ash that reached Argentina. The National Service of Geology and Mining said the explosion that sparked the eruption also produced a column of gas 10 kilometers (six miles) high, hours after warning of strong seismic activity in the area. AFP PHOTO/CLAUDIO SANTANA
Pedro Pardo
Award Of Excellence, Spot News category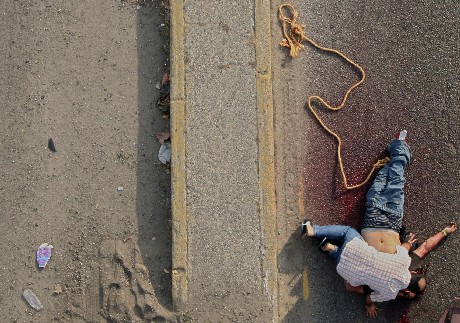 MEXICO, Acapulco : GRAPHIC CONTENT
A man mourns over the body of a relative, one of the three victims - one decapitated and partially dismembered - found on the Acapulco-Mexico road, in the neighbourhood La Cima, in Acapulco, on January 9, 2011, a day after 15 other bodies were found beheaded in this Mexican beach resort. AFP PHOTO/Pedro Pardo
Lionel Bonaventure
Award Of Excellence, Sport Feature category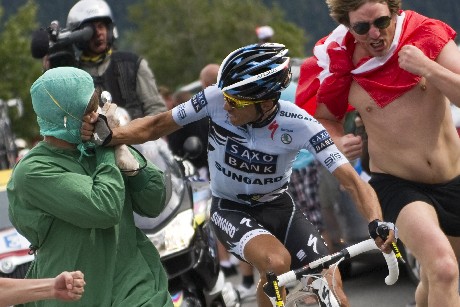 FRANCE, Huez : The leading man, Spain's three-time Tour de France winner Alberto Contador (C) punches a fan dressed up as a doctor as he climbs Alpe d'Huez (1850 m) in the109,5 km and nineteenth stage of the 2011 Tour de France cycling race run between Modane Valfrejus and Alpe d'Huez ski resort, southeastern France, on July 22 , 2011. AFP PHOTO POOL / LIONEL BONAVENTURE