Awards
AFP's Bülent Kiliç wins international photojournalism honour at the "Visa Pour L'Image" Festival
Agence France-Presse photographer Bülent Kiliç was honoured Saturday 5th September at photojournalism's biggest annual Festival for dramatic images of refugees fleeing across the Turkish border.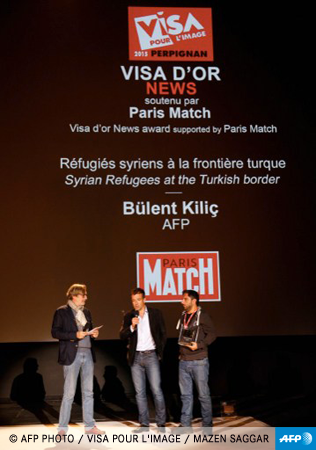 Kiliç, 35, won the Visa d'Or for News, the most prestigious award handed out at the "Visa Pour L'Image" Festival in Perpignan, southwestern France.
The photographer, who has already won several top awards, told AFP he was honoured. "It is so nice when people trust you," he said.
"I got to go back to work... That prize makes me happy, but it is time to go further." The images he captured as thousands of refugees climbed over barbed wire-topped fences at the Turkish border post in Akcakale while fleeing Syria ended on the front pages of newspapers and websites around the world.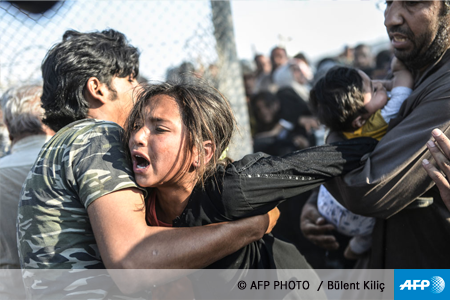 In less than 10 minutes some 20,000 people piled up at the border, with many carrying children, who were passed over the fence.
People were screaming and climbing over each trying to make it through the barrier. "I hope I never see that again," Kiliç said previously.
The award also carries an 8,000-euro ($8,900) prize.
In February 2015, Kilic won the World Press Photo award for spot news and in 2014 was honoured in the Bayeux-Calvados War Correspondents awards, the US National Press Photographers Association competition and the China International Press Photo contest.
Time and The Guardian also chose him as their agency photographer for 2014.
"This prestigious award is a tribute to Bülent's remarkable images, which bear witness to the quality of AFP's work," agency chairman and CEO Emmanuel Hoog said of the Visa d'Or honour.
Kiliç began his career as a journalist for the local press and in 2003 became a photographer, joining AFP as a stringer two years later. He is currently the agency's photo chief for Turkey and has carried out several foreign assignments including in Ukraine and Syria.
Find out more about The International Festival of Photojournalism "Visa Pour L'Image" +
Bülent kiliç on Twitter + and on Facebook +