AFP – United Kingdom : Sports journalists' association names Adrian Dennis photographer of the year
Adrian Dennis receives coveted Award as 2012 photographer of the year from the British sports journalists' profession.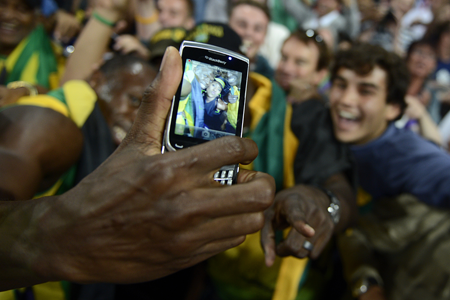 UNITED KINGDOM, London : Jamaica's Usain Bolt has his photo taken with spectators as he celebrates Jamaica winning and setting a new world record in the men's 4X100 relay final at the athletics event of the London 2012 Olympic Games on August 11, 2012 in London. AFP PHOTO / ADRIAN DENNIS

Adrian Dennis was hailed in particular for his surprising picture of Usain Bolt photographing himself alongside fans after the Jamaican team's victory in the 4X100-metre relay at the London Olympics.
"I am honoured and proud to see my name join great British sports photographers. Sports photography is a constant challenge. Sports photographers, just like athletes, run around the field to deliver the best image", said Adrian Dennis.
Adrian Dennis had already won the photographer of the year title for his coverage of the Paralympics and was hailed for his Olympics portfolio by the UK Picture Editors' Guild.
Adrian Dennis studied journalism at the University of Florida and worked for several publications in the USA from 1989 to 1996. On returning to the United Kingdom, Adrian worked for The Independent and The Independent on Sunday until 2000, when he joined the AFP London bureau.
As a strategic priority for the agency, sports account for over half its annual image output. The agency's 45 photo-journalists out of the 150 accredited AFP journalists released nearly 75,000 images from the London Olympics alongside video journalists, writers and graphic editors. The 2012 sporting summer featuring the football European Cup and the London Olympics was an opportunity for AFP to beat its own records for speed, volume and technique.