AFP Syrian photographer Abd Doumany, won the silver prize of the China International Press Photo Contest (CHIPP) War and Disaster News with his portfolio on the Syria conflict.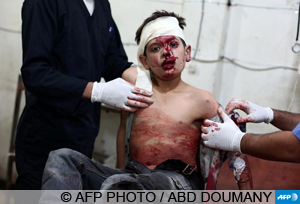 Abd Doumany is a Syrian freelance photographer, born in Damascus (Syria) and based in the Damascus suburbs. He has been covering the news and events of the Syria uprising since the beginning. He started his career in photojournalism as a freelance photographer with Reuters in 2013, and then he continued covering Syrian conflict in 2014 with Afp, upon recovering from an injury.
CHIPP is an annual photo contest organized by China Photojournalists society. The Organizing Committee of the 11th China International Press Photo Contest (CHIPP) announced the winning results of the contest in Chengdu, China's southwest Sichuan province, on March 25, 2015. It provides a platform where photojournalists and photographers around the world get to show their works, exchange ideas and promote friendship.