You are here
AFP in the news
Fifty AFP pictures exhibited at the Western Australian Museum of Perth in tribute to cricket
Fifty pictures shot by Agence France-Presse (AFP) photographers will go on display at the Western Australian Museum in Perth from Friday 27 in a tribute to the popular sport of cricket, the museum authorities have announced.
WA Museum CEO Alec Coles said the month long display will feature images of the history, origins, highs and lows and controversies of the sport that enjoys a global following.
The exhibition will also provide an overview of the one day Cricket World Cup organized by the International Cricket Council (ICC). The first tournament was held in England in 1975, Coles said.
"Cricket is one of many sports that AFP reports on globally. We are therefore delighted to work with the Western Australian Museum to show off some of our pictures especially in a country where cricket has a very large following," said Gilles Campion, AFP's Asia Pacific Regional Director.
AFP's coverage of cricket reaches a global audience via hundreds of newspapers, radios and TVs, magazines and other publications in countries like India, Pakistan, South Africa, Australia and the Caribbean where cricket has more than a billion avid fans.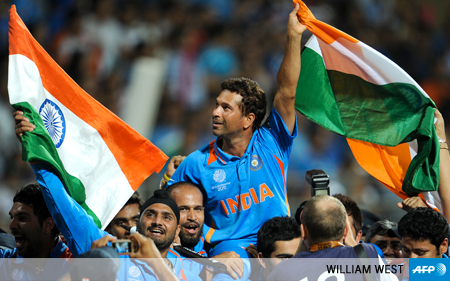 Indian batsman Sachin Tendulkar is carried on his teammates shoulders after India defeated Sri Lanka in the ICC Cricket World Cup 2011 final played at The Wankhede Stadium in Mumbai on April 2, 2011.
© AFP / William West