Agence France-Presse is a global leader for sports coverage in English, French, German, Arabic, Spanish and Portuguese, and in sports photography.
AFP Sports comprises a worldwide network providing sustained, reliable, round-the-clock coverage. It also mobilises exceptional human and technical resources for major international competitions.
AFP Sports is synonymous with innovation – for its almost instantaneous transmission of photos from stadiums or from the motorcycles following the Tour de France, as well as interactive, multimedia applications offering a blend of content and statistics with partners who are recognised in their specialise.
800
photos/day

650
stories/day

10
videos/day

6
languages

(French, English, Spanish, Arabic, Portuguese, German via SID)

Sports Results:

National football leagues

All the international competitions

Formula 1

Cycling
AFP TWEETFOOT
A unique platform for following the best of European football with Twitter
AFP TweetFoot lets you follow top national European football leagues via Twitter, thanks to hand-selected databases of the most pertinent Twitter accounts for each league. Dynamic and interactive interfaces combine customized timelines with AFP sports data (scores, card, transfers & fixtures) to provide at-a-glance, realtime updates on mattches, teams and players. User can also access AFP's Twitter-based statistics and rankings for each league. AFP TweetFoot offers a unique, interactive and entertaining experience, even for people who don't use Twitter or have an account.

Leagues covered
Ligue 1
(FRANCE)

Premier League
(ENGLAND)

La Liga
(SPAIN)

Bundesliga
(GERMANY)

Eredivisie
(NETHERLANDS)

Products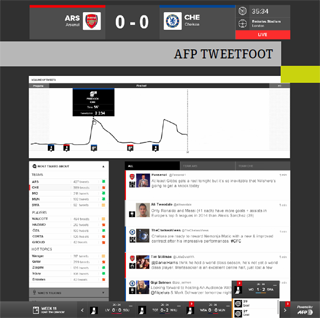 • The website : a full-scale Twitter platform for complete coverage of each league, customisable according to your graphic charter

• The widget : a scaled-down, customised tool easy to configure with a simple client-side tool


Key features
• Only top-quality, hand-picked Twitter accounts
• Three main categories: Live, Replay & Rankings

• Customized timeless filtered by match or team

• Enriched tweets show profiles & team affiliation

• AFP sports feed integrated: fixtures, scores and live action

• Real-time trends: teams, players, most popular topics on Twitter

• Graphic dataviz shows volume of tweets

The AFP TweetFoot databases

For each European league AFP has selected 1,000 to 1,500 of the most influential Twitter accounts.– players, fans, bloggers, journalists and professionals. AFP databases are compiled using both quantitative and qualitative criteria – no noise, just football.

The selected accounts are enriched with metadata (profiles, team affiliation) ensuring efficient and pertinent content filtering.