You are here
The AFP-Relaxnews platform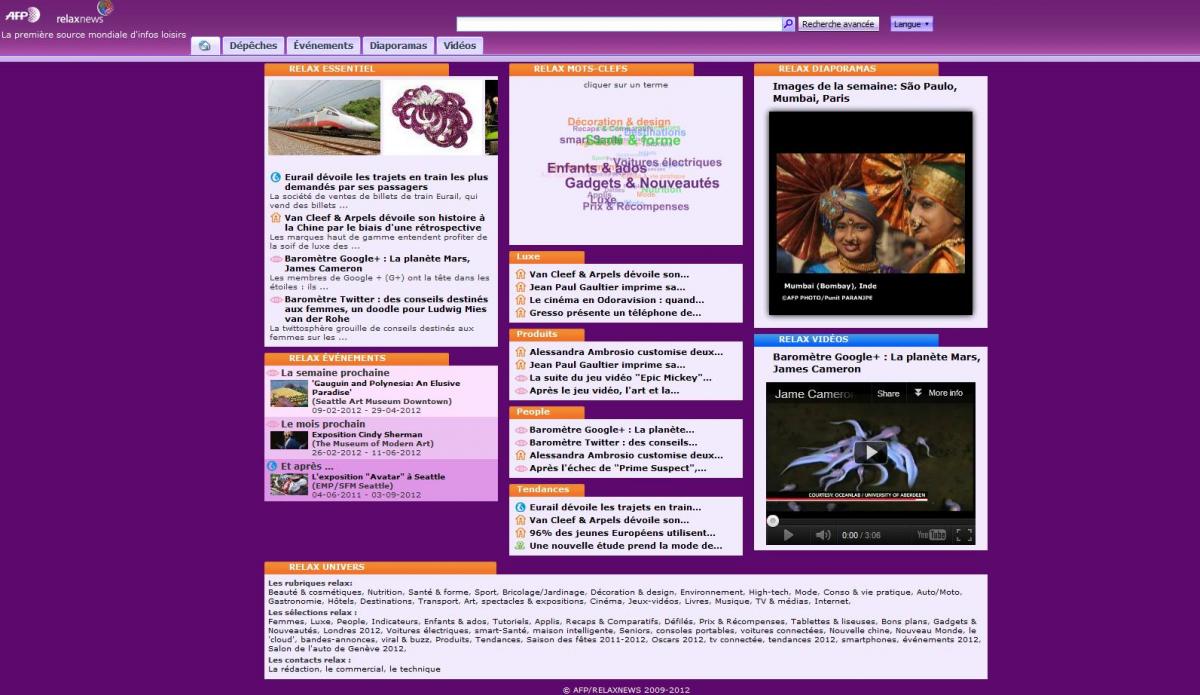 The AFP-Relaxnews is the first editorial platform allowing subscribers direct access to text, pictures and videos.
The platform functionalities:
Consult the news as it is published as well as access stories from archives going back to 2009.
Create automatic filters and themed folders.
Print and email the selection.
Download pictures and videos in multiple format.
Set up email alerts for text.
The technological expertise used by the AFP-Relaxnews platform was recently recognized by:
The support of the ANR, the French National Research and Development Agency.
The "Leaders of the ITech-economy" prize in 2010, given by the IE-Club and Ubifrance. This award aims to recognize and promote innovative SMEs with high international potential.
The selection of Relaxnews as a participant in the first French Tech Tour 2011 organized in Japan, as one of the 10 most innovative small French companies (organized introduction to major IT players in Japan to build strategic, commercial or corporate connections).
Partners
The AFP-Relaxnews platform syndicates partner feeds available "à la carte" by subscription: ParisModesTV, Bang and NowFashion.
ParisModes TV was founded by Marie-Christiane Marek, an internationally recognized pioneer of lifestyle video journalism. Acquired in 2011 by Relaxnews, ParisModesTV has expanded its video offering to ensure the best video coverage for Fashion, Luxury and Trends with a quick turnaround time. It offers 500 premium video reports a year with:
350 videos dedicated to the world's six major fashion show seasons: Men's Ready-to-wear (Milan, Paris), Haute couture, Women's ready-to wear (New York, London, Milan, Paris). Available in broadcast quality max 12 hours after the show. Includes a version without voiceover.
150 videos dedicated to fashion trends, new places and events. Videos produced beyond the main fashion show seasons.
Each video lasts between 1mn30 and 2mn and is accompanied by a short script. ParisModes TV videos are available in English, French and, in some cases, Chinese, in 10 different formats per feed, directly from the AFP-Relaxnews platform.
Daily celebrity images with Bang/Relaxnews slideshows
20 slideshows a month presenting the latest celebrity street styles & red carpet looks available on the AFP-Relaxnews wire. One slideshow corresponds on average to 5 Bang pictures, always accompanied by credits and Relaxnews commentary. This service is available for digital usage only.
Fashion Weeks live broadcast of shows with NowFashion Player

Live streaming photos of the fashion shows in NY, Milan, Paris & London thanks to NowFashion flash player, capable of being integrated into a website. This service is available for digital use and only during Fashion Weeks.
Our clients
AFP-Relaxnews counts iconic clients in more than 20 countries for web/print/mobile/social media/public screens/on air use.
Among these media and brands subscribers: Yahoo on three continents, MSN in Quebec and South East Asia, Redcats, France 24, Luxuo blog, The Week in India, The Independent, South African Broadcasting Corporation, RTLinfo.be, Newscorp in Australia, Buongiorno in the United States.